The International Association for Six Sigma Certification (IASSC) is a Professional Association dedicated to growing and enhancing the standards within the Lean Six Sigma Community. IASSC is an independent third-party certification body. IASSC does not provide Lean Six Sigma related training, mentoring, coaching or consulting services. IASSC exclusively facilitates and delivers centralized universal Lean Six Sigma Certification Standards testing and Lean Six Sigma Accreditations. These are based on established, recognized and published criteria, none of which are dependent upon the use or engagement with any specific trainer(s), training provider(s), consultant(s), proprietary training content, products or software or any specific organization or company offering Lean Six Sigma or any other services.
MISSION
IASSC is committed to growing and enhancing the Lean Six Sigma Profession by recognizing professionally qualified individuals and organizations. IASSC will continually research and characterize the criteria by which the industry recognizes qualified Lean Six Sigma practitioners. We will deliver professionally developed exams that accurately and precisely measure an individual's proficiency to the industry standards.
IASSC will embrace and involve the community to ensure the standards are representative of true Lean Six Sigma Methods and Tools. IASSC will support our community of Certified Professionals and Accredited Organizations by upholding the IASSC Universally Accepted Lean Six Sigma Body of Knowledge, a strict code of ethics as defined in the IASSC Code of Professional Conduct and the IASSC Certification.
OWNERSHIP
In 2020, IASSC was acquired by PeopleCert, a global leader in exam delivery and the certification of professional skills. PeopleCert is dedicated to continuing IASSC's history and tradition of being a true independent third-party certification. PeopleCert will own and operate IASSC with the mission of bringing certification best practices to the Lean Six Sigma industry. Learn more about IASSC's history here.
About IASSC
IASSC is a proud member of the Institute for Credentialing Excellence.

 As a proud member of ICE, we stay informed on best practices in developing and administering quality certification programs so that we may better serve you. The International Association for Six Sigma Certification is proud to be a member of the Institute for Credentialing Excellence in show of our support of the credentialing community and our commitment to strive for excellence in our Lean Six Sigma Black Belt, Green Belt and Yellow Belt certification programs. ICE is a non-profit, 501(c)(3) organization dedicated to providing educational, networking and advocacy resources for the credentialing community. ICE History: In 1977, the National Commission for Health Certifying Agencies (NCHCA) was formed, in cooperation with the federal government, to develop standards of excellence for voluntary certification programs. In 1989, the scope of those standards was broadened to include certifications for individuals in all professions and occupations. At that time, the standard-setting and accrediting organization NCHCA became the National Commission for Certifying Agencies (NCCA), and the National Organization for Competency Assurance (NOCA) was formed as the membership association for credentialing bodies. For more than 30 years, NOCA, NCCA, and their predecessor have promoted excellence in credentialing through education, research, advocacy, standard setting, and accreditation. As NOCA became the worldwide leader in providing knowledge and information to assist certification professionals in developing and managing high-quality certification programs, the Board of Directors recognized its broadening scope and the need to redefine the organization. In 2009, the Board proposed a name change for the organization that was approved by the membership and NOCA became the Institute for Credentialing Excellence (ICE). ICE is an American National Standards Institute Standards Developer. The NCCA Standards are a proprietary standard and must be applied for and approved by the NCCA Commission separately from ICE membership.
IASSC is proud to be a "Full Member" of the American National Standards Institute (ANSI)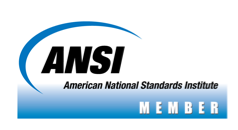 Comprised of Government agencies, Organizations, Companies, Academic and International bodies, and individuals, the American National Standards Institute (ANSI) represents the interests of more than 125,000 companies and 3.5 million professionals. ANSI is the official U.S. representative to the International Organization for Standardization (ISO) and, via the U.S. National Committee, the International Electrotechnical Commission (IEC). ANSI is also a member of the International Accreditation Forum (IAF). Regionally, the Institute is the U.S. member of the Pacific Area Standards Congress (PASC) and the Pan American Standards Commission (COPANT). ANSI is also a member of the Pacific Accreditation Cooperation (PAC) and via the ANSI-ASQ National Accreditation Board (ANAB), a member of the Inter American Accreditation Cooperation (IAAC).  As the voice of the U.S. standards and conformity assessment system, the American National Standards Institute (ANSI) empowers its members and constituents to strengthen the U.S. marketplace position in the global economy while helping to assure the safety and health of consumers and the protection of the environment. The Institute oversees the creation, promulgation and use of thousands of norms and guidelines that directly impact businesses in nearly every sector: from acoustical devices to construction equipment, from dairy and livestock production to energy distribution, and many more. ANSI is also actively engaged in accreditation – assessing the competence of organizations determining conformance to standards.
Find us at ANSI. Visit the ANSI Membership Directory here then scroll down to International Association for Six Sigma Certification LLC.