Lean Leader Certification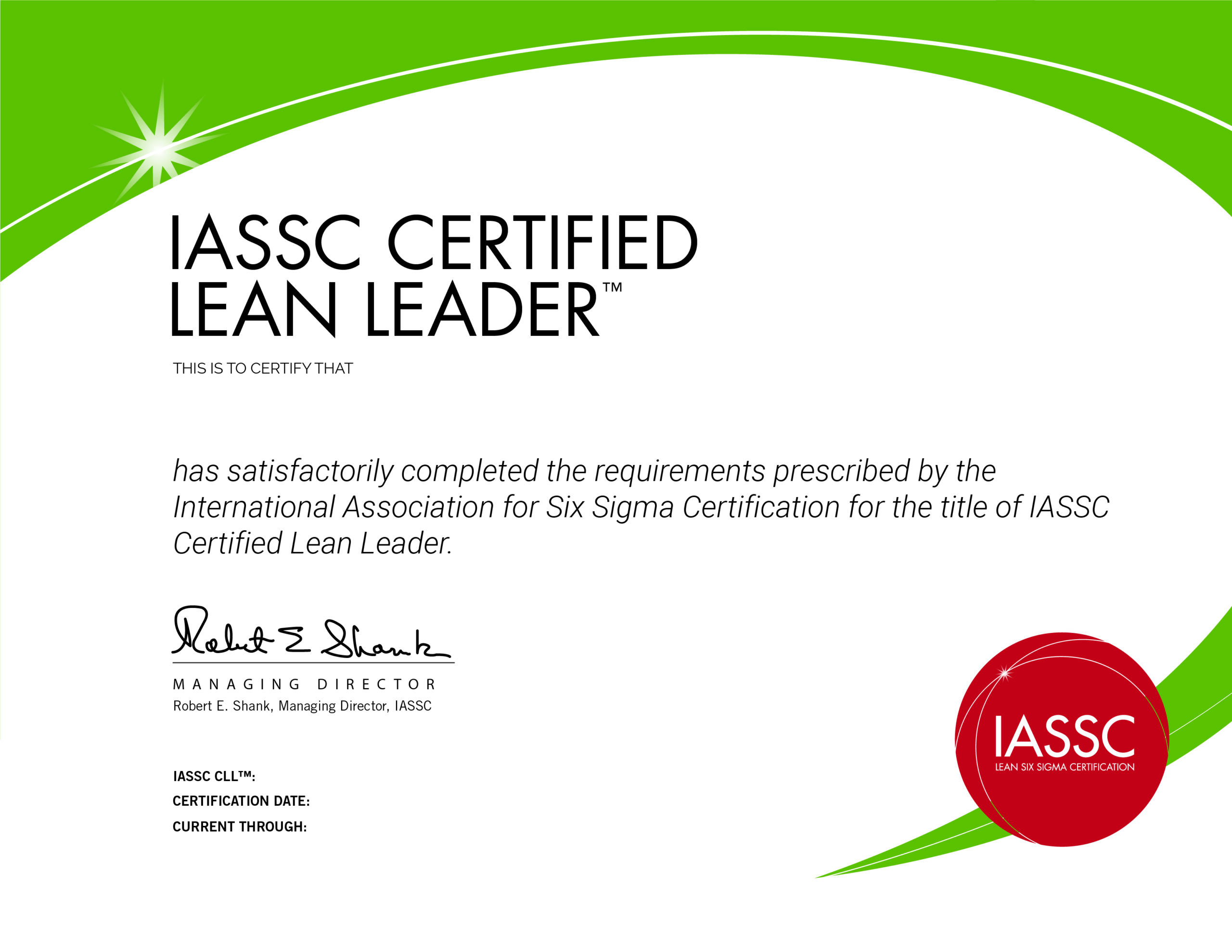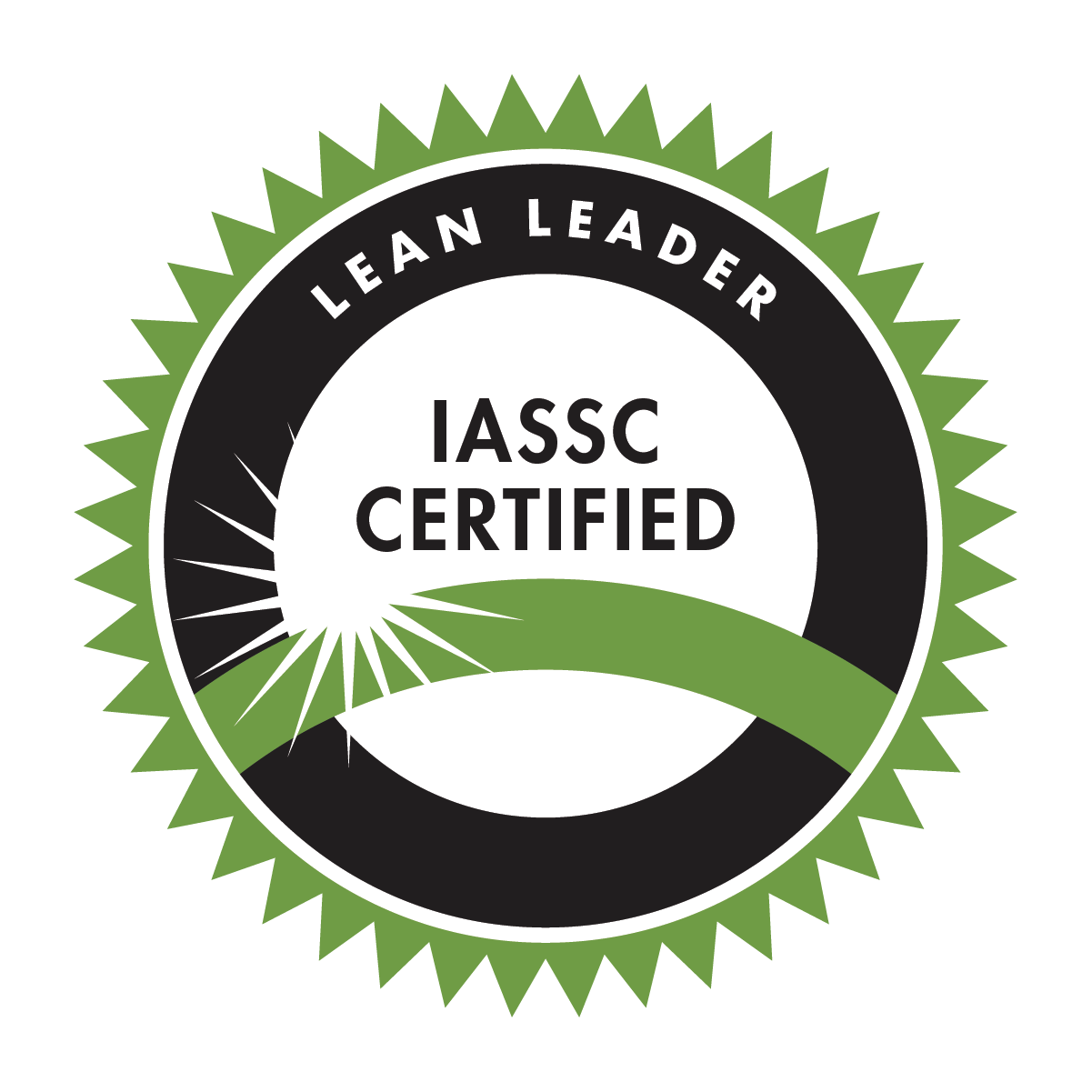 Exams & Vouchers are available now.
IASSC Certified Lean Leader™ (Intermediate Level)
Lean Leaders drive and lead Lean Improvement efforts across an organization or within their usual field, area, operation. Lean Leaders, also referred to as Lean Green Belts or Lean Silver, possess an advanced understanding of Lean and the skills to successfully implement Lean tools and practices within the organization.
Lean Leaders training generally includes some combination of classroom and/or online, self-study, coaching & mentoring typically consisting of approximately 48 to 72 hours (6 to 9 days in-class equivalency), not including time associated with project application and implementation.
Lean Leaders often operate in a part-time to full-time capacity with varying emphasis on; conducting improvement efforts, coaching Lean Practitioners, assisting Lean Experts. This proficiency is applicable across all Lean Environments including; Lean Manufacturing, Lean Production, Lean Office, Lean IT and Lean Development. Lean Practitioners possess the skills and competencies to:
* Understand Lean initiatives including the philosophy, principles and techniques.
* Support top management business strategy via Lean activities and roadmap.
* Guide and support Lean Experts on identifying and managing opportunities.
* Lead in identifying and prioritizing key improvement opportunities and obstacles.
* Train, Coach and Guide Lean Practitioners on Lean Principles and Techniques initiatives.
* Lead and manage Lean improvement teams and projects.
* Apply relevant Lean Principles and Techniques to eliminate wasteful practices.
* Establish key performance metrics to monitor progress and results.
* Initiate and sustain Lean transformation for an organization.
Certification Testing
The IASSC Certified Lean Leader Exam™ is a 90 question, closed book, proctored exam with a 2 hour allotted time. Some forms of this exam may also include up to an additional 9 non-graded questions*. The Exam contains multiple-choice and true/false questions from each section of the IASSC Lean Leader Body of Knowledge. The Lean Leader exam is available on the On-demand Web-based testing system. In the future, the Lean Exams will be available throughout our affiliate partner network as well as within our PearsonVue network of more than 8,000 Testing Centers located within 165 countries throughout the world.
Lean Leader Certification Requirements
In order to achieve the professional designation of IASSC Certified Lean Leader (IASSC-CLL™) from the International Association for Six Sigma Certification, candidates must sit for the IASSC Certified Lean Leader Exam and achieve a minimum score of 70%.
There are no prerequisites required in order to sit for the IASSC Certified Lean Expert Exam. Purchase a Lean Expert Exam Voucher for $195 USD through the link provided below.
Preparation
For those who wish to sit for the exam it is recommended, but not required, that Lean Leader training is obtained through a qualified institution, Lean trainer or corporate program. It is also recommended, although not required, that those sitting for the exam have some degree of real-world Lean work experience and project application experience. IASSC offers a non-proctored (informal) Lean Evaluation Exam that may help you determine if you are ready to sit for an official proctored Certification Exam.
IASSC Lean Leader Certification
Upon successful achievement, Professionals will receive IASSC Lean Leader Certification issued by the International Association for Six Sigma Certification™, a true independent third-party Certification Association within the Lean Six Sigma Industry.
IASSC Certification is recognized perpetually. In accordance with the IASSC Recertification Policy, effective March 1, 2017, a classification system recognizes certifications as "Current" for a period of three years and defines regulations for maintaining such Status.
An IASSC Certified Lean Leader is issued a Certificate (PDF) which includes a Certification Number, a digital badge, added to the Official IASSC Certification Register and granted the right to use the IASSC Certification Marks and Titles; a professional designation which may be used in resumes and public profiles such as LinkedIn, consistent with the IASSC Marks Use Policy.
Purchase On-Demand Web-Based Exam